Restoring a couple of chisels that I'd damaged pretty badly and let rust.
Tools and materials for sharpening: pair of scissors to cut sandpaper, half-inch piece of float glass, about 4" x 12", Super 77 spray adhesive, D-limonene (solvent, yellow in clear bottle), rag from soft t-shirt, steel wire brush, WD-40, wet-or-dry sandpaper in grits 400, 800, 1500, 2000. Also, not pictured below, SAE-30 oil as cutting fluid and lanolin as surface protector.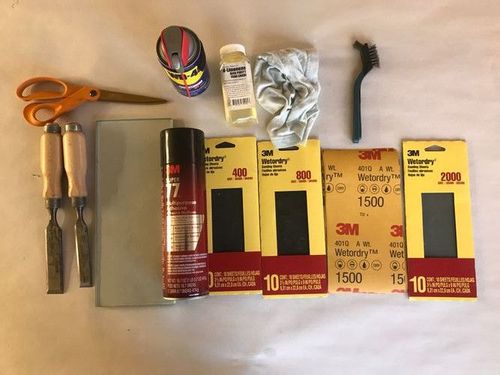 First step, steel wire brush and WD-40 to remove the surface rust. Staining remains.
Maintenance cycle for glass, and sandpaper sharpening system
Cut the sandpaper so that the pieces fit on the pane of glass without hanging over. The pieces of sandpaper should have one straight edge that can be aligned with a long edge of the glass.
Next, take the first piece of sandpaper you want to use and lay it grit-side-down on a work surface. Scrub the sprayer on the adhesive can with a wire brush to clear any stuck adhesive. Do a careful test spray on the middle of the back of the sandpaper—if the nozzle is clogged, it might not spray in the direction you expect. Next, put a few short bursts of spray adhesive along the length of the sandpaper. The goal is to put just enough adhesive that the sandpaper, when pressed on the glass, can't easily slide along the surface: it doesn't need to be stuck on there, and it will always slide if you push hard enough. Pick up the sandpaper and, aligning a straight edge on the paper with a long edge on the glass, lay it down and press down. This piece of sandpaper is ready to use.
Next, I use a little bit of SAE-30 oil[1] as a cutting fluid on the sandpaper and rub the flat surfaces of the chisels carefully against the sandpaper to make the faces of the chisel edge flatter and smoother, which is the process we usually call "sharpening."
When I'm ready to switch sandpaper grits, I pull the current sheet off the glass by its corner. The remaining adhesive on the glass will then be enough to stick down the next sheet. If the sheet feels loose anywhere add a shot of adhesive to tack it down. Repeat this process, sharpening and replacing sheets, until the chisel is sharp enough.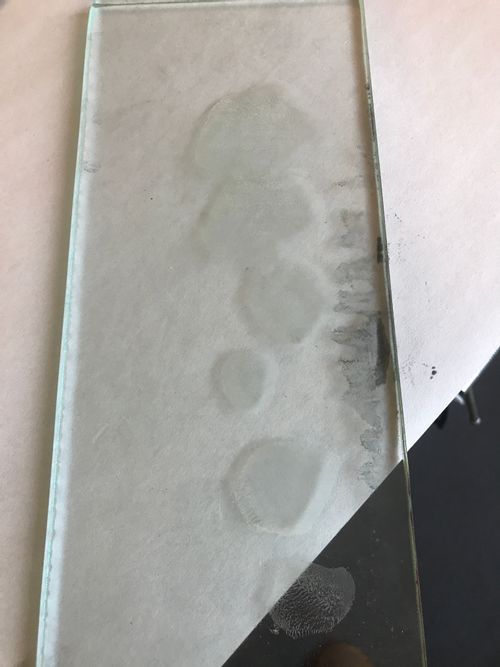 When you're ready to clean off the adhesive, use acetone or D-Limonene to dissolve the adhesive. Choose a well-ventilated place. Using a swab, cover the surface of the glass in the solvent. Wait a while. Clean off the glass plate. Use water and dish soap to remove remaining residue.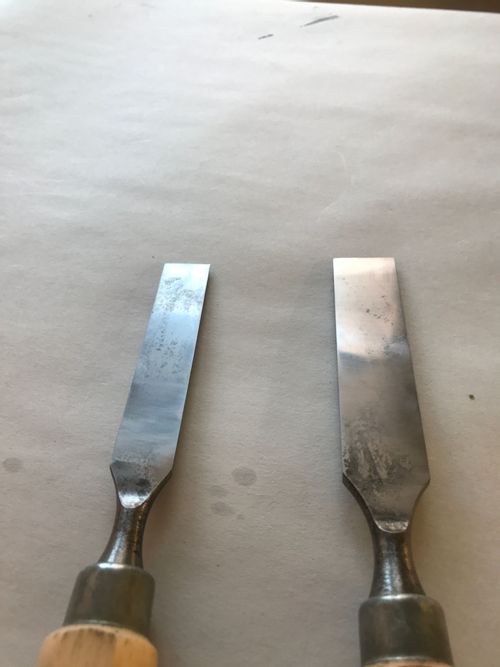 ---
SAE is a viscosity grading, 30 is about motor oil, don't use one with detergents. Look up "way oil." ↩︎