I have been trying to copy this shirt as my "learn to sew better" task for probably 2-3 years now. I think the pictured one is my 3rd(?) attempt. Every one gets a little bit better, but I still don't think I'd wear this out of the house--the shoulder seams point in noticeably different directions, the arms are too tight and the buttonholes on the collar are very misaligned. For this attempt I used a bedsheet that I believe is a cotton-poly blend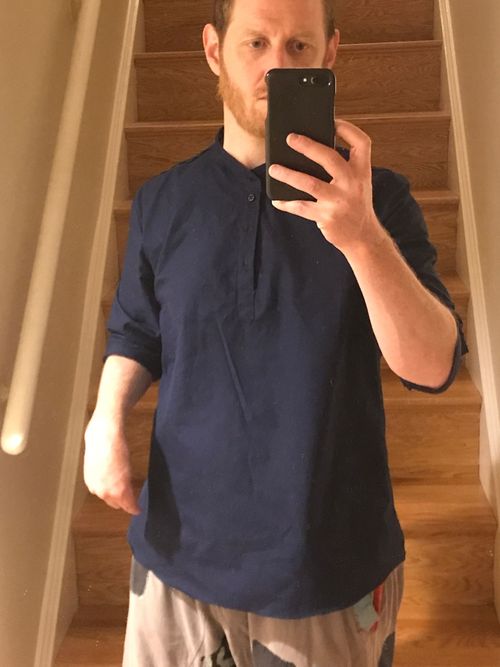 I love the shirt this is based on because it is loose enough to be comfortable but still a woven fabric (the original is linen, which is what I would like to use once I get a little better). I like the style of collar, and I like that it is a pullover rather than a button-front. I like wearing long-sleeved shirts with the sleeves rolled up rather than short sleeves.

To make this I fully disassembled a shirt that was getting work out and used it for the pattern. I definitely had some source of error though--the sleeve-ends were shorter than the armscyes and the side-seams didn't meet very well. Especially at the armpits, one of the sides extended way beyond the other, contributing to the fit issues.

I am pretty happy with the progress I made on this attempt overall. I was able to try out overedge seam finishes and buttonholes and buttons for the first time using a sewing machine--my previous attempts were on a Singer 66 and I either did those details by hand or (usually) omitted them. The overedge seam finishes also really helped me adhere more closely to the small seam allowances built into the original garment.